Download a booklet:
Unitarian
Weddings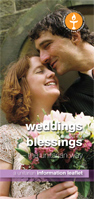 click here to download
Weddings


The church is licensed for weddings and young couples are invited to discuss their wedding arrangements and contents of the service beforehand. The church holds about 150 people comfortably and there is a Pipe Organ.

Readings from the Bible, the Koran, from the work of Kahlil Gibran , Walt Whiman or any other source may be used during the service. Prayers and personal vows can be used as well as appropriate music, alongside the joining together of the congregation in the singing of hymns.

There are no tests of faith to authenticate the ceremony and often, people who have been divorced, or belong to different Faith traditions, can be married as long as the couple convince the worship leader that they have thought seriously about their marriage, and wish to celebrate it in a spiritual context.


On Nov. 12th 2009: Lorna Tarrant and Leighton Rees of Aberaman.

On April 17th 2010: Dyfan Jones and Vikkie Gibson of 10 Park Lane, Trecynon.

On May 1st 2010: Daniel Lloyd and Emma Boulton of 3a Graig St., Aberdare.

On May 29th 2010: Richard Thomas and Rachel Pillar of Maesyffynnon and Blaengwawr Farm , Aberaman.