Download a booklet:
Unitarian Views
Of Jesus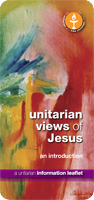 click here to download
Services
<!img class="imageright" src="images/people.jpg" width="299" height="215" alt="Our people" title="Our people" />
FORTHCOMING SELECTED SERVICES


Sunday August 26th 11.00.
100th Anniversary commemorative Service of the death of the Rev Alexander Webster, Minister in Aberdeen and founder of "Fresh Air Fortnight" country holidays for deprived children in Aberdeen, which led to the setting up of Linn Moor Residential School, Peterculter.

Sunday 30th September at 11.00
185th Anniversary Service conducted by GA Vice President and national President of the Women's League, the Rev Celia Cartwright. To be followed by a light lunch.



SUNDAY SERVICE INFORMATION

Sunday Services take place at 11am throughout the year apart from Sundays in July and the last week of December, when the church is closed. They are conducted in a relaxed and informal atmosphere by our Minister, the Rev Caroline Cormack, by members of the Congregation or a visiting Celebrants.

Our Congregation is made up of people from all walks of life and from many different religious backgrounds who wish to explore and develop their beliefs in the company of others.

There is therefore no fixed order of service and the worship pattern changes from time to time, but will usually consist of music, hymn-singing, readings from inspirational works of world literature, prayers from many sources and an address on the service topic. Meditation and meditative singing may also feature.

Currently there is no children's programme in operation, but arrangements will be made to cater for children accompanying their parents to worship.

Conversation and Refreshments are there to be enjoyed after the service for a modest donation.