Download a booklet:
"A Faith Worth
Thinking About"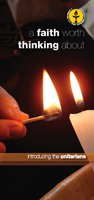 click here for a free download
Undodiaid Bangor Unitarians
Advance notice of temporary change of venue:
For May, June and July we shall be meeting on the SECOND Sunday at the Quaker Meeting House in Dean Street, Bangor at 2pm. This is a trial run. We shall evaluate the experiment in July.
Welcome!
Are you interested in exploring the meaning of life? And don't want to subscribe to any dogmatic views? If so, you might like to attend one of our open monthly meetings. We are a diverse group: liberal Christians, agnostics or atheists, buddhists, pagans or humanists, we respect each others views and learn from each other; we come from all over North West Wales Gwynedd, Anglesey, Conwy and Denbighshire. We
usually
meet in Talgai Hall, the community centre in the picturesque village of Llandegai, just outside the University town of Bangor in Gwynedd.
Whether you are young or old, student or pensioner, or anything inbetween, you are welcome to join us.
We
usually
meet monthly on the third Sunday.
See our calendar below for dates and venue as this can change from time to time!Join our mailing list below to receive regular updates.
---