Download a booklet:
"A Faith Worth
Thinking About"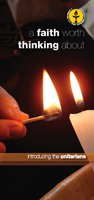 click here for a free download
Bradford Unitarians
We are a spiritual community with many different beliefs. We find our unity in shared values such as:
+ The nurturing of the spiritual dimension
+ The use of reason and honest doubt in the search for truths
+ Constructive tolerance and openness towards the sincerely held beliefs of others
+ Peace, compassion, justice and democracy in human affairs
+ Reverence for the earth and the whole natural system of which we are a part

Bradford Unitarians is an active congregation which supports local and national initiatives, including The Peace Museum, Bradford Toy Library, The Trussell Trust (foodbank), send a child to Hucklow (breaks for underprivileged children), "Standing on the side of Love" (Campaigning for Equal Rights - Unitarian churches and chapels represent over 40 of the 80-odd places of worship licensed for equal marriage) and Interfaith Projects among others.

As individuals, our members' interests and commitments include Fairtrade, the Alzheimer's Disease Society, Interfaith Vegan Alliance, Social Justice, Frack-free Yorkshire, Women of the World (community-building), music groups and choirs.

Nationally, Unitarian groups include the Unitarian Christian Association, the Unitarian Earth Spirit Network, the Meditational Fellowship, Unitarian and Free Christian Peace Fellowship, Unitarian Music Society, and many others - reflecting the diversity which flourishes within the movement.

THIS WEEK
Friday 24th 7pm to 10pm "It'll be a good night" - a social evening of entertaining ourselves with poetry, music, singing and stories. Please bring your own alcoholic or non-alcoholic drinks and some nibbles to share. This is a free event with a voluntary collection to support the work of Bradford Peace Museum.
Sunday 26th 10.45 Worship service led by Rev. Penny Johnson.


For further details about our upcoming events please look at our "Activities" page.

---