Download a booklet:
"A Faith Worth
Thinking About"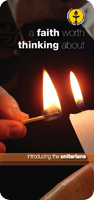 click here for a free download
Undodiaid Caerdydd/
Cardiff Unitarians
We support the pursuit of individual spirituality
within a community of diverse beliefs.

Cardiff Unitarians are a community united in a spirit of mutual tolerance and respect that recognises the worth and dignity of all peoples and their freedom to believe as their conscience allows.

You are very welcome to join us at one of our upcoming services.

We meet at 4pm every Sunday
at the Friends Meeting House, Charles Street

On the 2nd Sunday of each month the service is in Welsh.





As Unitarians:
- we are not required to assent to any creed or statement of faith; the emphasis is on being true to oneself
- we recognise the worth and dignity of all peoples and their freedom to believe as their conscience dictates
- we have reverence for life in all its forms and are concerned for the integrity of our relationships with all others and the environment we all share
- we celebrate the dignity of differences between religions as a precious asset of humanity
---