Download a booklet:
Unitarian Views
Of Jesus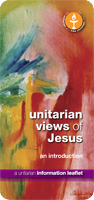 click here to download
Our Worship


Services for April and May 2017

All services are held at 4pm in the Friends Meeting House, 43 Charles Street CF10 2GB unless otherwise stated.

April 2017

Sunday 2nd April 2017
Lis Dyson Jones

Dydd Sul 9 Ebrill 2017
Gwasanaeth Cymraeg (Service in the medium of Welsh)
Reverend Eric Jones

Sunday 16th April 2017
Sarah Boyce

Sunday 23rd April 2017
Gwynn Pritchard


Sunday 30th April
No Service,

May 2017

Sunday 30th April
No Service

Sunday 7th May 2017
Hilda Dumpleton (Swansea Unitarians)

Dydd Sul 14 Mai 2017
Gwasanaeth Cymraeg (Service in the medium of Welsh)

Sunday 21st May 2017
NO SERVICE IN CARDIFF
SEWUS AGM in Hen dy Cwrdd, Cefncoed

Sunday 28th May 2017
Tony Foster (Aberdare Unitarians) Our Services are led by members of our own congregation, other worship leaders, lay preachers, lay pastors, and retired ministers. The content and style of worship varies and can consist of readings which are taken from many faith traditions and from a range of secular writers as well as the use of meditations, music, hymns and an address. Our services are held with chairs in a horseshoe which allows for more participation from the congregation. Themes for a service may include ethical and contemporary issues. Some Christian festivals such as Christmas are celebrated as well as seasonal times of the year such as Harvest time. Services for Harvest Festival and St. David's Day are celebrated jointly with other Unitarian congregations in South East Wales.