Download a booklet:
Unitarian Views
Of Jesus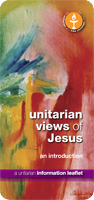 click here to download
Our Worship


All services will be taken by our new minister, Stephen Lingwood except for the Welsh services as below, which are held on the second Sunday of the month.

All services are held at 4pm in the Friends Meeting House, 43 Charles Street CF10 2GB unless otherwise stated.

For details of Welsh Services throughout 2018 please see the church calendar
Our Services are led by our minister, Stephen Lingwood. The content and style of worship varies and can consist of readings which are taken from many faith traditions and from a range of secular writers as well as the use of meditations, music, hymns and an address. Our services are held with chairs in a horseshoe which allows for more participation from the congregation. Themes for a service may include ethical and contemporary issues. Some Christian festivals such as Christmas are celebrated as well as seasonal times of the year such as Harvest time. Services for Harvest Festival and St. David's Day are celebrated jointly with other Unitarian congregations in South East Wales.