Download a booklet:
"A Faith Worth
Thinking About"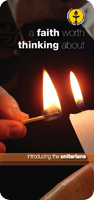 click here for a free download
Chorlton Unitarian Church
Here is quietness for the healing of our spirits;
Here is history for the background of our lives;
Here is thinking for the enlarging of our minds;
Here is fellowship for the warming of our souls.

Think of yourself as spiritual but not religious? Chorlton Unitarian Church is a place you can meet with like-minded people in an atmosphere of tolerance and diversity.
Get our latest news at the Church blog, The Lotus Window.
The latest newsletter (Spring 2014) is on the blog
---