Download a booklet:
Unitarian Views
Of Jesus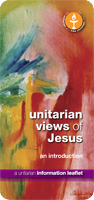 click here to download
Services
Sunday Services start at 11am each week.
Our regular organist is Thomas McLelland-Young.
Sunday Pulpit Rota for 2017-2018


March 4 Jo O'Sullivan (Brighton)
March 11 Stephen Crowther (Lay Pastor) Mothering Sunday
March 18 Phillida Simpson (Brighton)
March 25 Congregational Palm Sunday

April 1 Stephen Crowther (Lay Pastor) Easter
April 8 Francis Clarke-Lowes (Brighton)
April 15 Carol Chambers (Horsham)
April 22 Rev Ashley Hills (Minister retired)
April 29 Congregational

May 6 Stephen Crowther (Lay pastor) 150th Anniversary
Address by Rev Martin Whitell (District Minister)
May 13 Stuart Coupe (Billingshurst)
May 20 Jennifer Sanders (Brighton)
May 27 Poetry Group Trinity

June 3 Stephen Crowther (Lay Pastor)
June 10 Mary Jenkins (Tenterden)
June 17 Rev Dan Costley (Minister at Sevenoaks) Father's Day
June 24 Francis Clarke-Lowes (Brighton)

NEW

'Heart & Soul' evening services are monthly alternative spiritual gatherings with music and silence, words and prayers and opportunities to share on the theme of the evening. They will close with time of refreshments and fellowship.

Thurs 22 March, 7pm: Spring - birth and growth

Thurs 19 April, 7pm: Perfectly Imperfect - transforming our brokenness

Thurs 17 May, 7pm: Blossoming

Thurs 21 June, 7pm: Summer Solstice - letting your light shine
Coffee time after a service.