Download a booklet:
Unitarian Weddings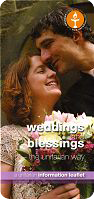 click here to download

"Child Blessings"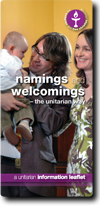 click here to download

Unitarian Funerals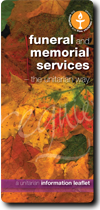 click here to download
Rites of Passage
Weddings.

All marriage services are different. Our services can be very traditional or tailor-made to suit the couple involved. We always work with the couple to create the kind of service they want. Elements from other religions are welcome, as are writings the couple may find themselves or have even written. Music can be provided using our organ or piano, we are also happy to use any music chosen by the couple. Our outside green space is freely available for post wedding photographs.

We have no problems offering a wedding ceremony for persons who have previously been married. Our Chapel is registered for marriages between same-sex couples.

Namings

Most often parents ask for a ceremony that is not a baptism but a Naming Service or a Blessing of a Child. This is very acceptable and can be arranged within a normal service or at another agreed time. We are happy to carry out traditional Baptismal services but we do not seek a child's salvation. We ask the parents at both types of gathering to raise the child to have virtues and principles by which to live.

Funerals.

At our Chapel a funeral service is always a Celebration of a Life. There are no statements about the meaning of death, but lots of talk about the meaning of life, especially of the life of the departed.

Other Ceremonies.

There are other ceremonies that can be arranged such as a Coming of Age Celebration, or indeed, the celebration of any landmark that an individual or couple may wish to acknowledge in a spiritual context.