Download a booklet:
"Child Blessings"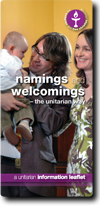 click here to download
Celebrating Birth or Adoption
Unitarians are not bound by creedal rules and customs so they have the freedom to create child-centred celebrations which meet a wide range of situations. Our Ministry team will be happy to devise a ceremony together with the parents to suit their needs.

Most parents prefer the ceremony to be held in a Unitarian place of worship, whilst some prefer to hold such a ceremony in the child's home or in a hired building. In the summer months the ceremony can be held outdoors. Parents are not asked to affirm anything they do not believe, or to involve themselves in the church more than they are willing. For parents who belong to different religious traditions, the source material from their own faiths can be integrated into the ceremony, thereby respecting the integrity of all concerned.

Whichever name is chosen for the ceremony - Welcoming, Naming, Dedication, Blessing, Thanksgiving or Baptism - what is important for Unitarians is the commitment, by the community as well as the parents, to offer the child love and support.

Current cost for this ceremony is £175.