Download a booklet:
"Unitarian
Funerals"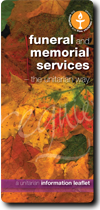 click here to download
Funerals and Memorial Services
Our ministry team will conduct religious, non-religious or humanist ceremonies. Readings can range from the Bible to the poems of Robert Frost, from Robert Burns to Ogden Nash. Often family members have written and spoken words of tribute.

Music can range from classical to jazz, full brass band to a soprano, the Beatles to a post-horn gallop.

We will help and advise you with all the elements of the service you require.

Current cost for a funeral £370.