Download a booklet:
Unitarian Views
Of Jesus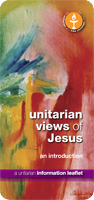 click here to download
Services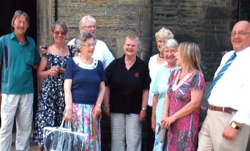 Our Lay Leader (Steve - far right) with some attendees and visitors.
Our Lay Leader, Steven Ginnever, has resigned for personal reasons. WE wish him well in the future, and thank him for over 20 years of service. We intend to continue, even if we are only open a few times a year for naming ceremonies, weddings and funerals. Normal Services at 2.30pm for one hour, on the 2nd and 4th Sundays of the month.
Our services of worship can be viewed as a celebration of our deepest values. We see our religious beliefs as relevant to all aspects of life including the wider community.
Over half the time our Sunday services are conducted by our lay leader, and consist of, music, hymn-singing, readings, prayer and meditation. Participation by the congregatiion is usual, and encouraged.
We also enjoy a wide variety of perspectives from visiting speakers. If you wish to speak to us about your denomination please contact us. .


All visitors and enquirers are made most welcome and are invited to join us for coffee and a chat after the service.