Download a booklet:
"A Faith Worth
Thinking About"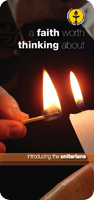 click here for a free download
Richmond and Putney Unitarian and Free Christian Church
Our Church is a home for dreams and visions.
It is a cradle to nurture and renew and enrich hopes.
We offer a sanctuary for those who need rest, who seek comfort and blessing.
Welcome to you no matter who you are:
welcome to you dreamers and visionaries,
welcome to all who see within life marvellous possibility,
welcome to you who live those possibilities, and who have the gift to share with your companions the humble offering of life.
In this church we join to celebrate those gifts. Welcome.
Welcome to you who hope, who see life's possibilities.
Welcome to you who find your spirit uplifted,
and who know the magical, breathless wonder of a world that is still to be shaped,
a world waiting for the work of hands and hearts to become more healed and whole.
In this church we pledge ourselves to the hope. Welcome.
Welcome to you who seek sanctuary,
welcome to all who come to find comfort and blessing in the company of fellow seekers.
Welcome to you who bring soft sorrows, aching pain and trembling fear.
We gather to touch one another, to be touched, to know that we are not alone,
but embraced,
comforted, and blessed by this gathering and the larger love that enfolds us.

We bid you welcome.
---