Download a booklet:
"A Faith Worth
Thinking About"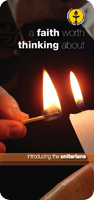 click here for a free download
Richmond and Putney Unitarian Church

We are a congregation with open hearts and minds.
We gather to celebrate the blessings of life, to support each other, and to join with others who follow a spiritual path.

You are most welcome.

If you wish to find out what our church is all about in the words of individual members of the congregation, visit our 'Richmond Testimonies' blog.
Wisdom of the week
"Be kind, for everyone you meet is fighting a hard battle"

"The Prisoner's Chorus" from Beethoven's "Fidelio"
Mozart's "Marriage of Figaro" appears in the film "The Shawshank Redemption"
Picture Credit
Randolph Wilcox
.
The Purpose Of Richmond and Putney Unitarian Church
a)To promote spiritual inquiry in a welcoming fellowship based on non-discrimination and care for others. b) To help people of all religious traditions and none find their own spiritual path, based on exploration, questioning, insight, intuition and reason.
The Aims Of Richmond and Putney Unitarian Church
a)To provide a place for spiritual enquiry, religious celebration and fellowship; b)To promote the free pursuit of religious and spiritual enquiry; c)To welcome all open-minded spiritual seekers regardless of age, race, gender,disability, sexual orientation, transgender identity or other source of difference; d)To be a welcoming and inclusive congregation; e)To work for social justice and progress, both in the local community and globally.
---