Download a booklet:
"A Faith Worth
Thinking About"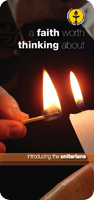 click here for a free download
Richmond and Putney Unitarian Church

We are a radically inclusive community of open hearts and open minds, where individuals are free to trust their conscience in matters of spiritual inquiry, and the inherent worth and dignity of all humankind is celebrated, irrespective of race, social status, gender or sexual orientation.

You are most welcome to join us. Our services are at 11 a.m. every Sunday. Click on the 'Services' link to your left for further details. If you wish to find out more up about our church's activities you can sign up to our monthly newsletter by contacting newsletter@rpuc.org.uk.

To read the stories of why individual members of the congregation come to our church, visit our 'Richmond Testimonies' blog.


One of our lovely Burne-Jones stained-glass windows.
Picture Credit
Randolph Wilcox
.
Our purposes are:
To promote spiritual inquiry in a welcoming fellowship based on non-discrimination and care for others. To help people of all religious traditions and none find their own spiritual path, based on exploration, questioning, insight, intuition and reason.
Our aims are:
To provide a place for spiritual enquiry, religious celebration and fellowship; To promote the free pursuit of religious and spiritual enquiry; To welcome all open-minded spiritual seekers regardless of age, race, gender,disability, sexual orientation, transgender identity or other source of difference; To be a welcoming and inclusive congregation; To work for social justice and progress, both in the local community and globally.

Wisdom of the week
'May we not fret too much about time, realising that everything is eternally there in its own particular place in the eternal consciousness of the universe' (adapted from Spinoza)

---