Wick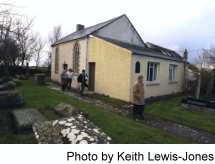 Wick General Baptist & Unitarian Chapel
Wick,
Cowbridge,
South Glamorgan
CF71 7QJ

Contact
Tel: (01656) 880862
email: lalliswales@tiscali.co.uk

The Unitarian and General Baptist chapel is small with a gallery on three sides and a small meeting room on the side. It is one of the few chapels in Glamorgan with a cemetery that is still being used. The congregation has always been small but extremely resilient.
The calendar below gives details of forthcoming services and other events. For full details please click on the event.