Download a booklet:
Unitarian Views
Of Jesus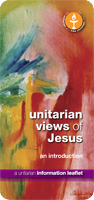 click here to download
Services
Services are held at 2.30pm on the 2nd, 4th and 5th Sunday afternoons of each month.
Our services of worship can be viewed as a celebration of our deepest values. We see our religious beliefs as relevant to all aspects of life including relations with the wider community.
Our Sunday services are conducted by visiting preachers, mainly from the local area, and traditionally consist of music, hymns, prayer and meditation, with a short address. Sometimes this is followed by a discussion of the topics raised.
As a small congregation, we value our links with other congregations in the Western Union and welcome visits from Unitarians and Free Christians from around the world.
All visitors and enquirers are invited to participate in our worship and join us for tea and biscuits and a chat after the service.
---
In association with other churches and secular groups in the town we host the town's Food Bank which stores and distributes practical assistance for those who are falling through the growing gaps in the national state welfare system.
---
A bi-weekly advice centre, Sid Valley HELP, for health and social well-being is provided in our meeting room on Tuesday and Thursday mornings.
---
Our church porch is a preferred shelter for street homeless.
The "Gateway" Sidmouth Homeless Action Group may be contacted by telephoning Ann on: 07980 023202 or Lesley on: 07470 004877.