Download a booklet:
Unitarian Views
Of Jesus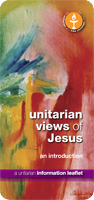 click here to download
Service Calendar
July
1st
Graham Louden On Walden Pond - living the simple life. What does the experience of Henry David Thoreau have to teach us today?
8th
Val Worthington ASBO or bad behaviour.
15th
Sarah Alewijnse The space between science and spirituality: thoughts from a trainee scientist. The service will be followed by a congregational meeting.
22nd
Colin Turnage .
29th
Angelica Kennard .
August
5th
Kathy Beckett .
12th
Don Phillips .
19th
Colin Turnage .
26th
Angelica Kennard .
Our services are followed by refreshments in the hall. Donations for this are sent to a charity. Now being collected for Animal Free Research