Download a booklet:
Unitarian Views
Of Jesus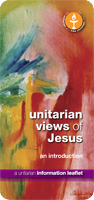 click here to download
Service Calendar
January
6th
Linda Phillips New Year. What did it mean, and what does it mean now?
13th
Graham Louden Change and decay in all around I see. There seems to be a lot of uncertainty and nihilism in society currently. Are there ways in which we can better manage to achieve a balance between change and continuity in order to restore a greater sense of collective purpose and respect into our civil and political discourse?
20th
Brenda Knopf Compassion. Short service followed by congregational meeting.
27th
Angelica Kennard Love Is... Being Loved.
February
3rd
The Worship team Cafe Church.
10th
Kathy Beckett A circle service on "what Unitarians believe" from an article by Rev Jim Corrigle. Discussion on what has attracted you to Unitarianism? What comprises the main thrust of your faith/belief? "which may be different from why you come! Angels, Saints et al can be included" or not, as the case maybe. All are free to voice their views, but to be accepting of others.
17h
Chris Winter .
24th
Angelica Kennard .
March
3rd
Chris Winter or Sarah Alewijnse . Short service followed by congregational meeting.
10th
Val Worthington .
17th
Graham Louden .
24th
Angelica Kennard Guest service.
31st
Liz Button .
Our services are followed by refreshments in the hall. Donations for this are sent to a charity. Now being collected for Animal Free Research