Download a booklet:
Unitarian Views
Of Jesus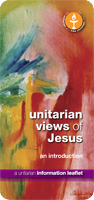 click here to download
Service Calendar
April
1st
Colin Turnage Aloneness and how to deal with it. Participants will be asked to talk about their feelings on the topic. Please encourage people who have an interest to come along.
8th
Colin Turnage Aloneness part two. This week continues the theme of Aloneness taking a more positive angle.
15th
Marta Pacini Give peace a chance. In this gathering we will pay witness to the possibility of upcoming UK military involvement in Syria. We will seek to strengthen ourselves for the troubled times ahead, and uphold the prophetic hope of peace and justice for all.
22nd
CANCELLED due to Southampton Marathon road closures.
29th
Angelica Kennard . Green Earth Spirit Group will be at 2.30 pm (Beltane).
May
6th
Graham Louden .
13th
TBA . The service will be followed by a congregational meeting.
20th
Kathy Beckett .
27th
Angelica Kennard .
June
3rd
TBA .
10th
TBA .
17th
TBA .
24th
TBA .
July
1st
Graham Louden .
8th
Val Worthington .
Our services are followed by refreshments in the hall. Donations for this are sent to a charity. Now being collected for Unicef