Download a booklet:
"A Faith Worth
Thinking About"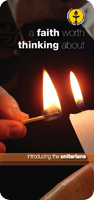 click here for a free download
St Albans Unitarians
Unitarians are united by shared liberal values. Unitarians value reason and intuition (or inner guidance of Spirit) as their main guides to what to believe.
For most Unitarians, important values to uphold include freedom, acceptance of and respect for others, truth, love, compassion, and beauty.

Worship at St. Albans Unitarians aims to help you appreciate and deepen your own spirituality, rather than tell you what you should believe.

Services are led by a range of worship leaders, including Unitarian ministers from the district and experienced lay people from our own and neighbouring Unitarian congregations. They usually include readings (often from scriptures of a major faith and/or from literature), singing together, and a (hopefully!) inspirational address.
The monthly Meditation Circle of St. Albans Unitarians serves to increase our spiritual depth and cultivate peace of mind.
Each year there are lighter community activities such as meetings for poetry reading, a summer picnic, and a pre-Christmas shared lunch.

---