Activities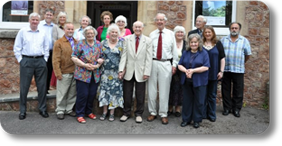 We hold services on the 1st and 3rd Sundays of the month at 11:00am.
On the 2nd and 4th Sundays of the month some of our members attend services at Bridgwater Unitarians, Dampiet Street, Bridgwater at 11:00am.
There are also services every Sunday at 11am at Crewkerne Unitarians, in Hermitage Street, at 11am.
We hold other events in Taunton throughout the year, including our summer get together with other local congregations at the Picnic in the Park.

We always light the candles of our impressive chandelier for our Carol Service in December.
.
Keep up to date with all our activities on our Facebook page.