Download a booklet:
"A Faith Worth
Thinking About"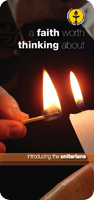 click here for a free download
Walmsley Unitarian Chapel
"Let no person be a stranger here"
Are you interested in an open minded spirituality which encourages us to listen to the wisdom of our own hearts & souls in the spirit of freedom and compassion?

If so, then our Unitarian chapel may be what you are searching for. Walmsley Unitarians share the values of mutual respect and care for each other with an attitude which is down to earth, humorous, warm and friendly.
Nurturing faith * Celebrating life. * Embracing difference. *
Forthcomimg Events
Sunday services are held at 11 am every week, conducted by the Minister and visiting preachers. Services are often based upon spiritual wisdom for everyday life and readings are chosen from a variety of sources, including The Bible, World Religions, books by today's spiritual writers, poetry and stories. Sunday school is held the 2nd and 4th Sundays in the month. Please feel welcome!

17 March was our Nature Cafe Open Morning (11am - 1pm) Click here for more details.
(If this info does not look updated, please press 'refresh' button on your device)
---