Download a booklet:
Unitarian Views
Of Jesus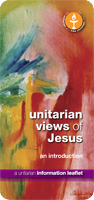 click here to download
Services and Sunday School
Services are held at 11-00am every Sunday apart from the last Sunday in December usually. (Please check here or usually, the info line for updates). Services are conducted by the Minister and visiting preachers and are often based upon spiritual wisdom for everyday life. Themes are chosen for a wide variety of sources including the Bible, World Religions, and, for example, Celtic spirituality. Poetry, stories and Meditations from different traditions including Buddhism, Hinduism and Liberal Christianity. Material from some of today's spiritual teachers is valued toward increasing our understanding, and deepening our spiritual lives and self awareness.

4th & 11th February: The Minister
18th February: Revd.Shammy Webster
25th February: Graeme Pilbrough
4th March: The Minister
11th March: Mothering Sunday: Revd Tony McNeile
Our Sunday school is held every 2nd and 4th Sunday. Click here for more details.