Download a booklet:
"A Faith Worth
Thinking About"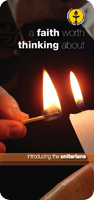 click here for a free download
Cairo Street Unitarian Chapel
---
HERITAGE WEEKEND 15th & 16th of SEPTEMBER

Our chapel will be open 10 am to 4 pm on Saturday, 15th of September
and 10 am to 2 pm on Sunday, 16th of September,
followed by our annual Academy Service - all welcome - on Sunday 3 pm.
Academy service will be on the subject of William Gaskell, delivered by Rev. Dr. Ann Peart.
You are welcome to pop in any time during the weekend. Come see our beautiful chapel, and have a cup of tea and a slice of cake!
---
We believe in Religious Worship that is unfettered by dogma or tradition. We believe in a Religion which is in harmony with the spirit of free enquiry and the living aspirations of the human soul. No form of religious doctrine is imposed upon Ministers or their congregations. We welcome to our membership and fellowship all who share these principles, however they may express their beliefs.
All are welcome to worship at Cairo Street Chapel.
As Unitarians our religious faith is:
PERSONAL
-our own, not another's.
THOUGHTFUL
- the result of thinking.
HONEST
- true to conscience.
FREE
- leaving room for growth.
A warm welcome is given to all who attend.
To be added to our newsletter list, please email:
bobunitarian@gmail.com
Our newsletter is published six times a year and includes information on upcoming events and activities.
---