Download a booklet:
"Child Blessings"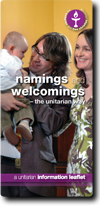 click here to download
Child Blessings
We do child blessings, please contact the Chapel for further information. Child Christenings

Jesus said, "Let the little children come to me, and do not hinder them, for the kingdom of heaven belongs to such as these."

The Christening will normally be led by a Minister or Lay Preacher.

We also conduct child naming and blessing ceremonies. Please contact the chapel for further information.