Download a booklet:
"Unitarian
Funerals"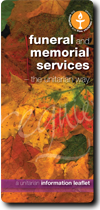 click here to download
Funerals
Cairo Street Chapel is here for everyone in the community. The message of our funerals is one of hope, of community gathering in times of sorrow, and of remembering all the wonderful aspects of a person's life. Our chapel has been helping the good folk of Warrington mark the end of life for many generations.

Please contact the chapel for further information.