Download a booklet:
"A Faith Worth
Thinking About"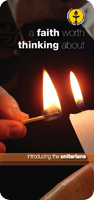 click here for a free download
Cairo Street Unitarian Chapel
---
REMEMBRANCE SERVICE 11th of NOVEMBER

A Remembrance Day service will take place at Cairo Street Unitarian Chapel on November 11 to honour and commemorate all service personnel and civilians who died in the First World War.
This service will take place on the 11th of November, at 10:30 am, to be led by Ray Beecham. We hope you can make it - all welcome.
All are welcome to worship at Cairo Street Chapel.
As Unitarians our religious faith is:
PERSONAL
-our own, not another's.
THOUGHTFUL
- the result of thinking.
HONEST
- true to conscience.
FREE
- leaving room for growth.
A warm welcome is given to all who attend.
To be added to our newsletter list, please email:
bobunitarian@gmail.com
Our newsletter is published six times a year and includes information on upcoming events and activities.
---