Download a booklet:
Unitarian Views
Of Jesus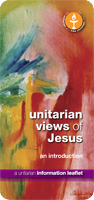 click here to download
Services
OUR NEXT SERVICE

1st July 10:30am
Jean Clements

15th July 10:30am
Rev. Bob Janis-Dillon

5th August 10:30am
Jean Clements

19th August 10:30am
Rev. Bob Janis-Dillon

2nd September 10:30am
To be announced


Services at Cairo Street Unitarian Chapel Warrington currently take place on the first and third Sundays of the month. Please note, our service time has now changed to 10:30am.

Our services of worship can be viewed as a celebration of our deepest values. We see our religious beliefs as relevant to all aspects of life including the wider community. A typical format for a service will include a sermon, music, hymn-singing, readings, prayer and meditation.

On the fifth Sunday, we will hold a service of meditation, reflection and readings. The next fifth Sunday Service will be on the 29th of July at 10.30am.

We also enjoy a wide variety of perspectives from visiting guest speakers who have included the Gaskell Society and choirs from other Unitarian chapels and local schools.

All visitors and enquirers are made most welcome and are invited to join us for coffee, refreshments and an informal chat after the service.