Download a booklet:
Unitarian Views
Of Jesus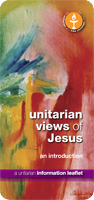 click here to download
Services
OUR NEXT SERVICE

19th of May 10:30am

2nd of June 10:30am

16th of June 10:30 am

7th of July 10:30 am

21st of July 10:30 am

4th of August 10:30 am

18th of August 10:30 am


And generally on the FIRST and THIRD Sundays of the month, at 10:30 am.

>
Our services of worship can be viewed as a celebration of our deepest values. We see our religious beliefs as relevant to all aspects of life including the wider community. A typical format for a service will include a sermon, music, hymn-singing, readings, prayer and meditation.

All visitors and enquirers are made most welcome and are invited to join us for coffee, refreshments and an informal chat after the service.