Download a booklet:
Unitarian
Weddings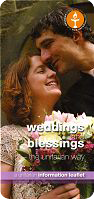 click here to download
Weddings
















We do weddings, of both heterosexual couples and same sex couples; please contact the Chapel for further details.


Cairo Street Chapel is a historic Unitarian & Free Christian chapel set in a secluded walled garden in the heart of the town.


We can offer a sacred space to get married. Over the centuries many couples have come here to solomize the love they have found together. You will be taking part in a tradition stretching back a long way. There is heritage here and your marriage will be held sacred by the generations who have got married in the chapel.


The ceremony will normally be led by a Minister or Lay Preacher.


Please contact the chapel for further details.