Download a booklet:
"Unitarian
Funerals"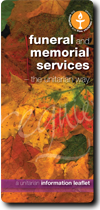 click here to download
Funerals
Our Rites of Passage ceremonies are usually taken by the Minister of Kingswood Chapel, the Reverend Ant Howe, as we do not have a Minister of our own. He will work with you to create a service which is appropriate for you and your family.

Unitarians believe that a funeral or memorial service should befit the loved one who has passed away. It is our privilege to be able to offer funerals services and the Minister is highly experienced in officiating at such ceremonies.

Whilst many people seek spiritual comfort following a bereavement, we believe that a funeral service should be first and foremost a celebration of life. Hymns and prayers may well be included in the ceremony, but such things will not be imposed upon you.

The Minister will visit you at your home and spend time getting to know your family and friends so that, together, an appropriate ceremony can be created.

We can host funerals at our chapel, and the Minister is available to officiate at funerals in local crematoria.