Download a booklet:
"A Faith Worth
Thinking About"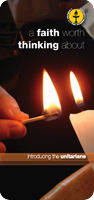 click here for a free download
Dunham Road Unitarian Chapel Altrincham
Our Ethos
Our chapel is open to all who wish to worship with an open mind and a spirit of free inquiry. It has its roots in Liberal Christianity, and seeks to discover and build upon the best in many religions, philosophies and approaches to life. So our worship is simple, includes praise to God, a celebration of life and its wonders, and a sharing of concerns and ideals for human life and its dignity.
Perhaps the main feature of our religion is that we do not insist that everyone should hold exactly the same beliefs. Rather, each person is encouraged to work out his or her own faith with sincerity.
As well as weekly worship on Sunday at 1130h, there are social activities throughout the year, and opportunities to discuss our beliefs and ideas, and learn something new. Services for special occasions, such as baptisms, weddings and funerals are also held, by arrangement with the minister. We welcome new members and visitors.
Our Chapel
The Chapel was built in 1872 replacing an earlier chapel in the town (1814). The architect of the chapel was Thomas Worthington, some of whose relatives were long time members of the chapel. The simple interior is cool and tranquil giving an almost spiritual feeling of inner peace. The three stained glass memorial windows at the front of the chapel were a later addition, the original windows depicting flowers, plants and the seasons being on the south side of the chapel.
A wide range of activities, beside worship, take place in the chapel and its adjacent small and large halls - meetings, exhibitions, plays, religious education, dancing, social gatherings, concerts, - and many of these are outward-looking towards the local community.
We are affiliated to the General Assembly of Unitarian and Free Christian Churches, whose symbol is the Flaming Chalice and has links with other liberal religious groups all over the world.
Watch our Xmas 2015 service.
---