Download a booklet:
"A Faith Worth
Thinking About"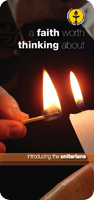 click here for a free download
Ansdell Unitarian Church

We are a free thinking, liberal Christian community, united in common values and friendship rather than dogma and doctrine. No credal test is imposed on Ministers, visiting worship leaders or members.

"The Unitarians are a community of people who take their religion, or their spirituality, liberally. That is to say, we hold that all people have the right to believe what their own life-experience tells them is true; what the prompting of their own conscience tells them is right. We say that each person's spiritual or intuitive experience deserves respect; that everyone's deep reflection and reasoning on religious and ethical questions should be taken seriously. Unitarians form a movement that tries to put these affirmations into practice. Our local religious communities offer a setting where people can worship, explore, and share faith together in an atmosphere of freedom and mutual respect."

Rev Cliff Reed, "Unitarian, What's That?"




---