Download a booklet:
Unitarian
Weddings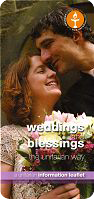 click here to download
Weddings
Weddings by arrangement with the Secretary, Alan Dawson-Brown and Authorised person, Granville Leather. It is not unusual for Ministers from other denominations to conduct weddings at this church.

The picture to the right shows one of our regular preachers, Simone Cowgill and her husband Andy, who were married in our church in 2012.

The pictures below are of Gill and Stuart, members of our congregation on their wedding day on 21st June 2008.