Download a booklet:
"A Faith Worth
Thinking About"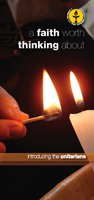 click here for a free download
Undodiaid Bangor Unitarians
Welcome!
N.B. All our meetings are currently online due to the coronavirus crisis. See our calendar below for dates.
Are you interested in exploring the meaning of life and don't subscribe to any dogmatic views? If so, you might like to attend one of our open monthly meetings led by our members. We are a diverse group: liberal Christians, agnostics or atheists, buddhists, pagans or humanists, we respect each others views and learn from each other; we come from all over North Wales Gwynedd, Anglesey, Conwy, Flintshire, and Denbighshire.
Join our mailing list below to receive regular updates.
---