Download a booklet:
"A Faith Worth
Thinking About"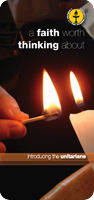 click here for a free download
Unitarian Meeting House

Welcome to Boston Unitarians and the historic meeting house in Spayne Road
There will be a service on Sunday 18th April, and on Sunday 1st May, both at 5.00pm. All welcome. Under coronavirus regulations, social distancing will be maintained at all times. A zoom meeting will be held on Sunday 25th April at 5.00pm.