Download a booklet:
Unitarian Views
Of Jesus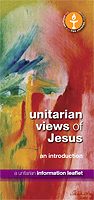 click here to download
Services
Worship Service every Sunday at 10.45


We believe that each person must come to their own understanding of the nature of the spiritual life. We do not have a statement of beliefs - a creed.
Our worship leaders have the freedom to structure and present worship as they see fit. We do not have a professional minister and currently a wide range of people lead worship: guest ministers, students in training, lay people, and members of our own congregation.

What will the worship service be like?
Often the format will be quite traditional with hymns, readings, prayers and/or meditations. silence, music for reflection, and an address or sermon. Services increasingly include the opportunity for the congregation to actively participate through discussion, responsive readings and sharing 'joys and concerns'.
Once a months we have an intergenerational service when the children and adults stay together; at other services the children have their own programme.
We expect visitors. All visitors and enquirers are made most welcome and are invited to join us for coffee and a chat after the service.

Children welcome
Children are always welcome. There is a children's corner with activities and books which they can use before and after the service. Children take part in the early part of the service; this often includes a story for the children - and enjoyed by adults! The children then have their own activities. We have trained leaders and usually follow the national Unitarian 'Chalice Award Scheme'.