Download a booklet:
Unitarian Views
Of Jesus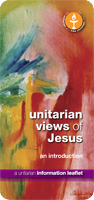 click here to download
Our Worship
Our worship is a chance to open the heart to love and the mind to wisdom. We open our hearts to the Source of Love, that some of us name as God. We open our minds to find wisdom in the living of life, guidance for the deepening of our spiritual lives, and inspiration for our work for justice in the world.
When you come to the Meeting House you will be welcomed into our large meeting room and you're welcome to sit where you like. Chairs are arranged in rows of circles. In our services we sing, pray, and listen to readings. Readings may come from the Bible, or from other religious scriptures, or other from other sources, as we believe that wisdom and revelation can come from many places. The preacher, usually our Minister Stephen, will give a short talk on the topic of the day. These talks are designed to give you something to think about and to provide some guidance in deepening your spiritual life. We usually take one spiritual theme for the month and explore it across several services. Spiritual themes include things like hope, freedom, prayer, awakening, science, and love. The service ends with a time of quiet meditation for you to deepen into your own prayers.
Tea, coffee, and cake are always served after the service, and visitors are always welcome to stay. On the third Sunday of the month we have a spiritual discussion on the month's topic.
Upcoming Events
There is much uncertainty about future events right now because of the corona virus. Please have a look at our Facebook page for the most up-to-date information,