Download a booklet:
Unitarian Views
Of Jesus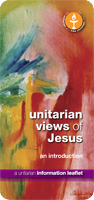 click here to download
Our Worship


Services are led by our minister, Stephen Lingwood except for the Welsh services as below, which are held on the second Sunday of the month.

All services are held at 4pm in the Friends Meeting House, 43 Charles Street CF10 2GB unless otherwise stated.

Services consist of hymns, prayers, meditation, and an address, or talk, on a spiritual topic. Readings may come from the Bible and other scriptures and traditions and from a range of secular writers. Our services are held with chairs in a horseshoe which allows for more participation from the congregation. Themes for a service may include ethical and contemporary issues. Some Christian festivals such as Christmas are celebrated as well as seasonal times of the year such as Harvest time.