Download a booklet:
"A Faith Worth
Thinking About"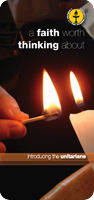 click here for a free download
Pound Square Unitarian Chapel
UPDATE 6/1/21 Given the current national lockdown, we have decided not to hold services at the Chapel for the time being.

However, you can join Sunday services live from Plymouth Unitarian Church at 11am via Zoom (contact Rev Kate Whyman for login details) or watch them live-streamed on Facebook.

Alternatively you can watch (or read) services here after the event.

Please contact our minister, Rev Kate Whyman here.


We are an open-minded, open-hearted spiritual community that usually meets on the first Sunday of each month in the beautiful and historic Unitarian Chapel in Pound Square.

We welcome all those who believe that religion is wider than any one sect and deeper than any one set of opinions.

We have no specific creed or dogma. Instead Unitarians emphasise freedom of conscience and draw on wisdom from many traditions, including Christian, Buddhist and Pagan, as well as from literature and science.

We welcome people of all ages, including families with children; we affirm the inherent worth of all, regardless of ability, class, race, sexuality or gender identity; and we welcome a broad range of personal beliefs, from theism to atheism.

Follow us on Facebook and Twitter


---