Download a booklet:
"A Faith Worth
Thinking About"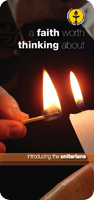 click here for a free download
Williamson Memorial Unitarian Christian Church
We believe in civil and religious liberty the world over.

We are a church which supports the principles of freedom, progress and tolerance and which aspires through worship, enquiry and service to make its work relevant to life.

We seek to realise in the life of the individual and of the community the love and brotherhood which are the essence of the teaching of Jesus, and we acknowledge what appears to be good and true in other religions and in the whole of life.

We recognise the right of every individual to seek and hold personal beliefs.

We have no doctrine which every member must accept, but ask those who choose to belong to this church that they share, in general, these aims and principles.
---