Download a booklet:
Unitarian Views
Of Jesus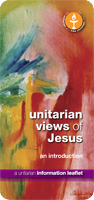 click here to download
Services
Our services of worship can be viewed as a celebration of our deepest values. We see our religious beliefs as relevant to all aspects of life including the wider community.

Over half the time our Sunday services are conducted by a speaker from the South East Wales Unitarian Society, some of whom are either trained in ministry, lay leaders or in training.

The style of service will vary but usually consists of readings, prayer, reflection or meditation, music and hymns and an address.

We also enjoy 'doing our own thing' where the congregation will ask one of their own to lead the worship or bring items to share.

We have welcomed a wide variety of perspectives from those visiting and contributing, ranging from the Christian tradition to Buddhists, and a Native American story teller .

All visitors are made most welcome and are invited to join us for refreshments and a chat after the service.


For information about this month's services, please see the Newsletter