Rites of Passage
Marriage is a unique experience for every individual. In this Unitarian Chapel, you are free to say how you feel and what you want. We will support and help you to create your own ceremony, in your own words and in your own way.
WEDDINGS
"We want to say Yes to one another - but in our own way"
Download a booklet: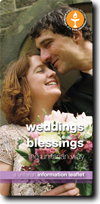 click here to download
A Unitarian Wedding Ceremony is one that you help to create, that you enjoy, and that you will always remember with joy and pride - a Wedding Ceremony that speaks of you

We believe in the uniqueness of people, and in the unique poetry in the soul of each one of us; the Unitarian way celebrates people as they truly are - rather than trying to turn them into something they are not.
Of course this means that we wasted no time in becoming licensed to conduct Weddings between same sex couples.

A Unitarian Wedding celebrates You as you marry one another; it allows you to express in your own way the depth of your feelings and the strength of your commitment to one other.

So every Unitarian wedding is unique - a ceremony with integrity, dignity, and personality - your personality.

Together we can create a Wedding that feels only right and natural.