Download a booklet:
"A Faith Worth
Thinking About"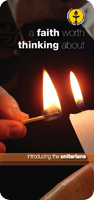 click here for a free download
What happens now to your web site
First you need to send us some pictures. We will add as many as you like, but as a minimum we need about 4. Ideally one of the outside of your building, one of the inside, one of an activity and one of your leader (if you have one). If possible email these to support@ukunitarians.org.uk. If this is not possible please send prints to: Kyla Photographics, 24 Lodge Lane, Hassocks, West Sussex, BN6 8NA. Ensure that any prints send have your name and address on the back as well as the name of your congregation.
Once the pictures has been received, one of the support staff will include these in your web site and make any other changes you have requested as well as removing this message. When this is done, you will receive an email (or telephone call) so you can check the web site because it is moved to it permanent location as is considered a live site.
Remember that you can still change most of the text in your web site now or once it is live, so you can keep it up todate with activities and current contact details etc. If you want to give the web support team instructions, please remember to include these in brackets in your web site.
???? Unitarian Chapel
Add your welcome message here, for example:
Here is quietness for the healing of our spirits;
Here is history for the background of our lives;
Here is thinking for the enlarging of our minds;
Here is fellowship for the warming of our souls.
---