Download a booklet:
"A Faith Worth
Thinking About"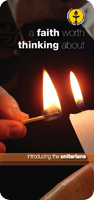 click here for a free download
Manchester College Oxford Chapel Society
At present our services in the chapel at Harris Manchester College, Mansfield Road, central Oxford (OX1 3TD) are suspended due to the Covd-19 pandemic.
For details of our current online Sunday services, see Forthcoming Events

The Chapel Society, affiliated to the General Assembly of Unitarian and Free Christian Churches, meets for worship every Sunday at 11 am in the chapel of Harris Manchester College in Mansfield Road, central Oxford (OX1 3TD).

We welcome members of the public and the university, of all faiths and denominations or none. Our religious faith does not require adherence to a fixed creed. We believe that religion is wider than any one sect and deeper than any one set of opinions. We find a basis for unity in our shared search for truth, our reverence for life, and a mutual respect for sincerely held beliefs.

We welcome everyone, regardless of gender, age, race, religion, or sexual orientation. We aspire to be a caring religious community in which we value people for their diversity and encourage freedom of thought and spiritual exploration.

Our motto is inscribed in the stained-glass windows of the chapel: Elargissez Dieu! - a quotation from Diderot, roughly translated as Set God free! or Broaden your concept of God!
---