Download a booklet:
Unitarian Views
Of Jesus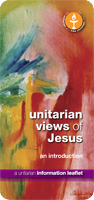 click here to download
Services
Conventional services are suspended due to government advice. We are currently trialing services via the Internet.
Our services are led by Unitarian Ministers, Lay Leaders & Pastors, from our own and other Unitarian congregations, and sometimes by members of our own and other Unitarian congregations, men or women.

Elements of our services can include music and singing, reading of poetry, sacred scriptures of various traditions, and other inspirational material, meditation and periods of contemplation and reflection, movement and dancing. We come together to share in fellowship, inspiration,community, spiritual nourishment and connection with an experience of the Divine and the spiritual aspect of the human experience.

We welcome people of all faith traditions and none.
A new quote for your visit.
Prayer does not change things; prayer changes people, and people change things. (Lon Ray Call)