Download a booklet:
Unitarian Views
Of Jesus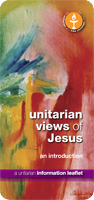 click here to download
About the Church
THE FORMATION OF UNITARIANISM IN STALYBRIDGE


The idea of starting a Unitarian Church in Stalybridge, we believe, first originated with Mr John Jackson who was a Director of the Dukinfield Old Chapel Sunday School. He was one of a number of young men, namely Joshua Cartwright, Joseph Greenwood, Joseph Oliver, John Howard, Samuel Hurst and James Kerfoot who during the 1850s made their way up the hill from Stalybridge to attend Old Chapel Dukinfield, week in and week out the whole year through.


photograph by
www.tpahphotography.co.uk
Around 1860 John Jackson presented a paper on the subject but was met with opposition from the then Minister of Old Chapel and The East Cheshire Christian Union who together felt that the time was not ripe for the starting of a new church in Stalybridge.
The young men were, however, not to be deterred and finding it impossible to start with a church resolved to start with a Sunday School. In a series of meetings, held secretly so their plans would not be frustrated, they finalised their scheme.
Once their plans were formulated and with some financial support from themselves and friends they came out in the open and made their intentions known to Old Chapel.
An inspired and successful approach to the Leech family resulted in them being granted the use of part of Hob Hill House to start a Sunday School. The School was opened on 13th July 1862 and met with immediate success. (13th July 1862 is accepted as the date that Unitarianism was first established in Stalybridge). By 1864 the School had 210 scholars and 32 teachers and the Leech family granted the use of additional accommodation.
In 1865 it was resolved to establish regular religious services in Stalybridge. A congregation was formed with 36 members and services commenced in the Foresters Hall. In 1867 the Reverend Francis Revitt was appointed as Minister and membership soon increased to 120.
Backed by a Sunday School of some 400 members a building fund was opened with a levy of 2d per week per person. Messrs John and William Leech generously gave a plot of land, on which the present church still stands, plus a donation of #200. Further generous donations were received from Mrs Jane Leech, Miss Harriet Leech, Miss Helen Leech and Mr Rupert Potter. Other generous donors were Mr David Harrison, Mr Henry Bayley and The British and Foreign Unitarian Association.
The foundation stone of the Church, to be erected in the Gothic style, was laid by Mrs Jane Leech on Whit Friday 1869 and the building was opened in February 1870 free of debt.
Mr Jack Bredbury
Church Secretary for over 30 years.
More information can be found in the following publications:
"The Foundation of the Stalybridge Unitarian Church and Sunday School and the connection of their origins with the Leech family"
by Jack Bredbury
"The Growing of the Seed – the story of Unitarianism in Stalybridge 1862-1962"