Download a booklet:
"Child Bleesings"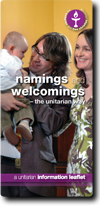 click here to download
Child Blessings
The Minister is able to conduct Baptisms or Naming ceremonies, usually following the Sunday morning service.

If you would like more information or to make arrangements please attend a morning service, any Sunday at 11.00am, after which the Minister or one of the church officers will discuss this with you.

There is a fee of £150 for a child naming or blessing service.



photographs by www.tpahphotography.co.uk