Download a booklet:
Unitarian Views
Of Jesus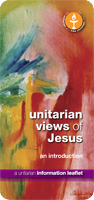 click here to download
Services
Services are held every Sunday at 11.00am. Visitors and children are always welcome at all our services. Services are quite informal and consist of hymns, readings from the Bible and occasionally from other sources, time for prayer and quiet reflection, a talk or story for the children present and a short sermon or talk after the children have gone to their own activities (see the Young People's Group page). The service usually lasts about 50 minutes.

Services are usually led by the Minister or by a member of the congregation if he is on holiday. We hope you will find attending a service here to be a welcome oasis of calm in our busy world. Our church is a place where you can explore your own faith in an atmosphere of acceptance and support. You will never be told what you should believe, that is a matter for your own conscience, but hopefully you will leave the service inspired and refreshed and with some thoughts or ideas that you can take with you to reflect upon during the week.

Tea and coffee are served after the service.

Weddings, baptisms, blessings and funerals by arrangement with the Minister.

For Holy Communion and special services see the calendar.