Download a booklet:
Unitarian Views
Of Jesus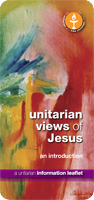 click here to download
Services
Stratford unitarian church has a Sunday service every week at 10.30am The main emphasis of our services is to be people centred. Where participation is encouraged.

There is a strong experiential and inoavative form of worship that compliments the traditional.

We use a child friendly and creative approach in some of our special services.

Our open and tolerance approach at tracts people from diverse cultural and spiritial backgrounds.

Our services of worship can be viewed as a celebration of our deepest values. We see our religious beliefs as relevant to all aspects of life including the wider community.

All visitors and enquirers are made most welcome and are invited to join us for coffee and a chat after the service.