Download a booklet:
"Unitarian
Funerals"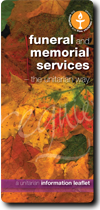 click here to download
Funerals


A Unitarian Funeral Ceremony aims to reflect your loved one's life and beliefs in ways that feel relevant and personal to you/your family and friends, whether these are spiritual/religious/humanist or otherwise. If the Unitarian approach resonates with you, you may wish to request if one of the local Unitarian Ministers can conduct the service. The first point of contact is the funeral director you have chosen. They can then contact the minister on your behalf. The funeral can be conducted at the Chapel by request and/or Overdale crematorium. Burials in the chapel graveyard are at the discretion of the Trustees.(Please see contacts section for garden of remembrance/graveyard)

For Interment of ashes at a later date please contact the funeral director to arrange practical issues, and the gardens of remembrance contact regarding requests/reservation of plot/s. For any associated ceremony requests and arrangements, please contact Jim Sheffield on 01204 596786 or jim.sheffield@btinternet.com.