Download a booklet:
"A Faith Worth
Thinking About"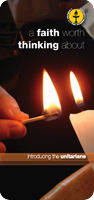 click here for a free download
Cairo Street Unitarian & Free Christian Chapel
All are welcome to worship at Cairo Street Chapel.

As Unitarians our religious faith is:

PERSONAL -our own, not another's.
THOUGHTFUL - the result of thinking.
HONEST - true to conscience.
FREE - leaving room for growth.

We believe that all the great religions of the world are there for the glory of God and we do not impose any creeds or doctrines on our Ministers, Lay Preachers or Congregation.

Love is the doctrine of this Church, The quest for truth is its sacrament, And service is its prayer. To dwell together in peace, To seek knowledge in freedom, To serve humankind in fellowship, To the end that all souls shall grow into harmony with the Divine: This do we covenant with each other and our God.

We worship the one God, known by many names.

Some people say we are the most progressive Church in Warrington. A warm welcome is given to all who attend.

To be added to our newsletter list, please email: bobunitarian@gmail.com
Our newsletter is published six times a year and includes information on upcoming events and activities.
---