Download a booklet:
"Child Blessings"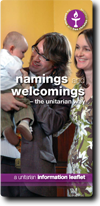 click here to download
Child Blessings
Congratulations on the birth of your child!

People were bringing even little children for Jesus to lay his hands on them and pray for them.

The disciples tried to stop them, but Jesus said, "Let the little children come to me, and do not hinder them, for the kingdom of heaven belongs to such as these."

And he took them in his arms and blessed them, laying his hands on them (Mark 19:13)

The Baptism (Christening) will normally be led by a Minister or Accredited Lay Preacher.

During this sacred sacrament (channel) water will be poured over your child's head, as we use water as a symbol of life, because there is no life without water.

This ancient ceremony welcomes your baby or child into the "Universal Church" and the wider human family.

Parents & Godparents

As Parents and Godparents you will make promises to help your child to "walk in the way of life" and "take their place within the life of the human family".

Please contact the chapel for further information.