Download a booklet:
"Unitarian
Funerals"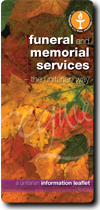 click here to download
Funerals
Cairo Street Chapel is here for everyone in the community. The message of our funerals is one of hope, of community gathering in times of sorrow, and of remembering all the wonderful aspects of a person's life. Our chapel has been helping the good folk of Warrington mark the end of life for many generations.

The funeral service is led by a Minister or Accredited Lay Preacher and can take place anywhere, including chapel, cemetery, crematorium, or a green woodland burial ground.

During the funeral service, the coffin is placed at the front of the chapel.

Cairo Street Chapel is also available for you afterwards. We offer support and a listening ear whenever you need to talk.

'And God shall wipe away all tears from their eyes; and there shall be no more death, either sorrow, nor crying, neither shall there be any more pain: for the former things are passed away' (Revelation 21:4)

Please contact the chapel for further information.